MCC Panel - Motor Control Centre Panel Board
We are the leading manufacturer of MCC Panel in Gujarat, MCC distribution board, MCC control panel board supplier, electrical mcc panel, mccb(motor control centre board) distribution panel manufacturers in Ahmedabad, India. The MCC or the Motor Control Center is a panel that is used for controlling & improving the performance of an electric motor.
And, all the switches, circuit breakers, connectors customer to IEC60947, part I, II, and III/ IS 60947 part I, II, and III. Electrical standards followed include Indian and international standards like IEC 60529&IS 8623.
The MCC Panel provides a centralized system for controlling the electric motors. It plays a major role in the industries which required working of multiple motors. A motor control center of any manufacturing line comprises of PMCC Panel, Intelligent MCC Panel, Soft Starter Control Panel & Variable Frequency Drive Panel. It also has a combination of different types of starter systems like star delta starter, direct online starter (DOL starter), soft starters, or variable frequency drives.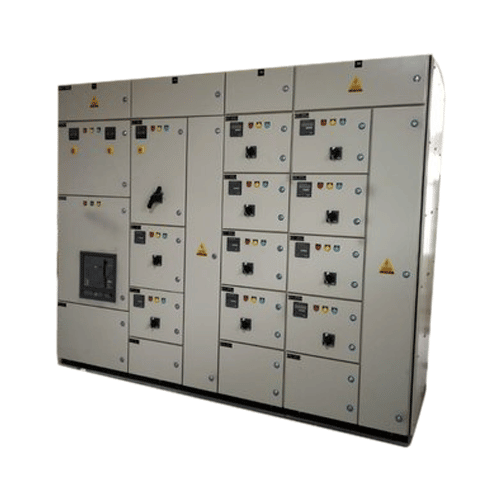 Motor Control Center (MCC) Panel in Ahmedabad
Electrical Panel India based in Ahmedabad, Gujarat – automatic power factor systems design & manufactures  MCC (Motor Control Center) Panels for the distribution of power in Ahmedabad (एमसीसी (मोटर कण्ट्रोल सेण्टर) पेनल्स, अहमदाबाद).
| | |
| --- | --- |
| Usage/Application | Industrial |
| Power Source | Electric |
| Voltage | 440 V |
| Brand | Shrinath Electric |
| Material | Mild Steel |
| Frequency | 50 Hz |
| Surface Treatment | Powder Coating |
Exactly we provide Motor Control Centre Electrical Panel & Distribution Board
MCC Electrical Panel: The Motor Control Center (MCC) is an assembly to control all or some central location for controlling electric motors which has a motor starter, circuit breaker, or fuse and power disconnected.
Motor starter control panel: Industries are especially using motor starter control panels; Mostly ATS-Automation Transformer Starter Control Panel used for operating submersible pumps or electric motors. Also, we can control with Variable frequency drive (VFD) or Soft starter using factory assembly of several motors.
Motor control centre(center) panel manufacturers in India: Shreenath Electric (Electrical Panel India) is known for best quality manufacturer and supplier of precision engineered Industrial Motor Control Panel – Intelligent Motor Control Center, iMCC Panel.
Motor control system manufacturers: Manufacturer of custom and standard DC electric motor controls. Including types of brushless & permanent magnet DC motors. Also Available in imperial & metric sizes.
Here we designed our MCC panel which have benefits & features as follows
The best customized MCC Panel in Ahmedabad is provided by Shrinath Electric also at a very affordable price. They are available in Non compartmentalized MCC Panels, Compartmentalised MCC Panel, Intelligent MCC &Removable MCC variants, which can be chosen as per your requirement.